If you've been following you'll know we're transforming a 1950's Malibu beach bungalow into a family retreat (get caught up here!) We're in the back half of a very long permitting process and hopefully -le, will begin construction in a few months. In the meantime, we are trying to plan everything possible so that once the demo begins, we can get off to a flying start. Today we're diving into one of my favorite design topics: how to choose the right mix of materials to use in a home. Read on for my approach, as well as the 5 materials we'll be using throughout the Zuma Beach House renovation.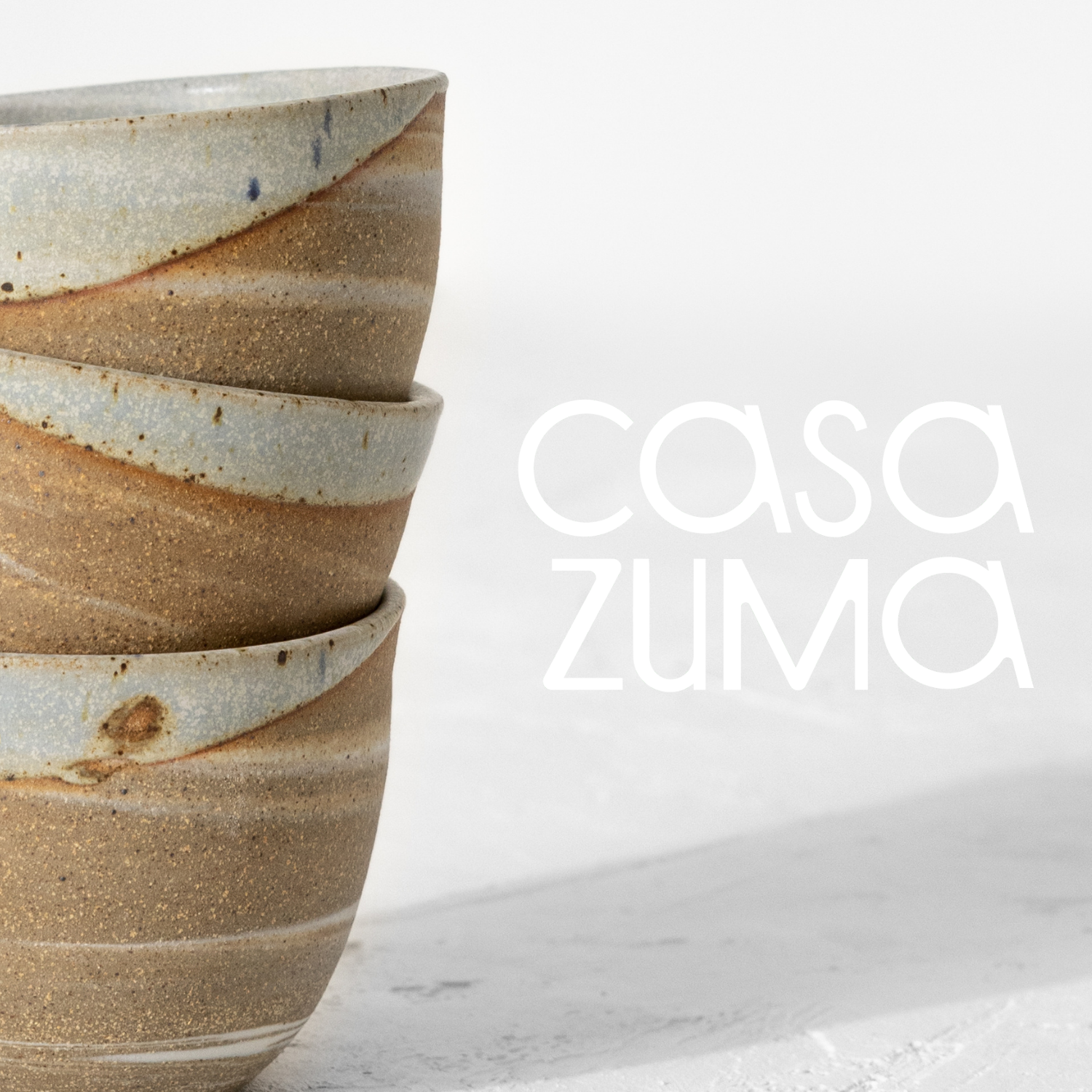 Subscribe
Casa Zuma Overview
Be the first to buy Camille's new lifestyle brand.
Thank you for your registration!
Oops!
It seems that you are already registered or that your e-mail address is not valid.
Oops!
It looks like you unsubscribed before clicking here to resubscribe.
Materials really important – here's why
You know that feeling of sinking your feet into a super soft rug when you roll out of bed in the morning? For me, this cocoon state is the exact feeling I try to channel whenever I'm home. And it's proof that the textures and materials of our homes go a long way toward creating an experience that sparks joy. You may remember from this article that the first step in my design process is to define how I want feel in a finite space. Well, nothing influences sensation like the materials around me – combined with color and shape, they can evoke deep emotion.
Through the material, we can enhance our daily experiences by creating a sense of comfort, calm, a clean slate, or a new perspective.
Set your vibe
I started by creating a mood board defining the materials and the color palette that I want to convey throughout the beach house. While some of you may feel energized choosing a different tile and paint color for each room in the house, I am a constant seeker of serenity in my own home. To me, that means a certain level of consistency across all spaces. I like to pick out a few special touches for certain areas, but in general, I'm leaning towards repeating materials and colors throughout the house. For our beach house, we use a calming, neutral color palette, so one of the main ways to add interest to the space is to use contrasting textures: hard versus soft, smooth next to rough .
There are certain materials that have always appealed to me, and they usually come from the earth: stone, wood, linen and clay. This attraction to natural elements has been my compass as we focus on the materials we will use throughout this project, illuminating the earthy hues that naturally accompany them.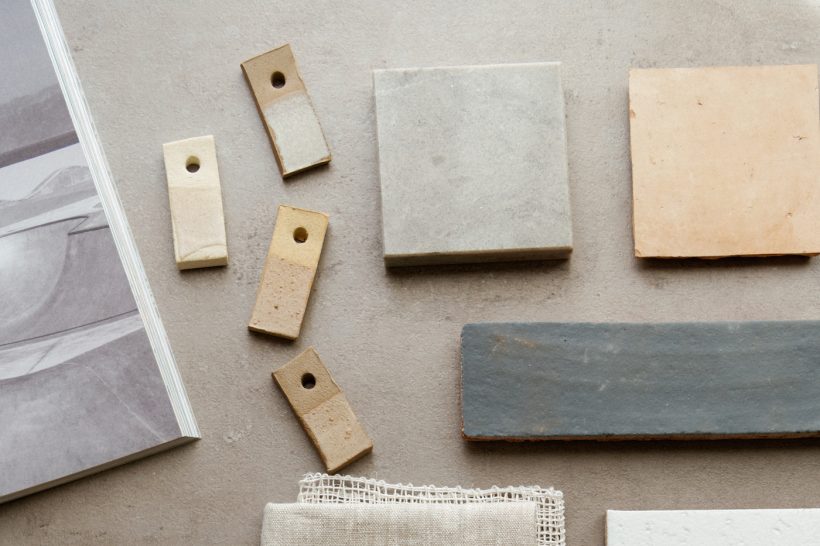 Order samples
During the material selection process, I ordered as many samples as possible from potential suppliers. I started laying them out side by side to see how each element plays against each other. Especially when working in a neutral palette, it is this integration of different materials and interesting textures that will bring interest to the home, creating the contrast and tension that invites the eye to linger, absorb and to find a unique beauty in each space.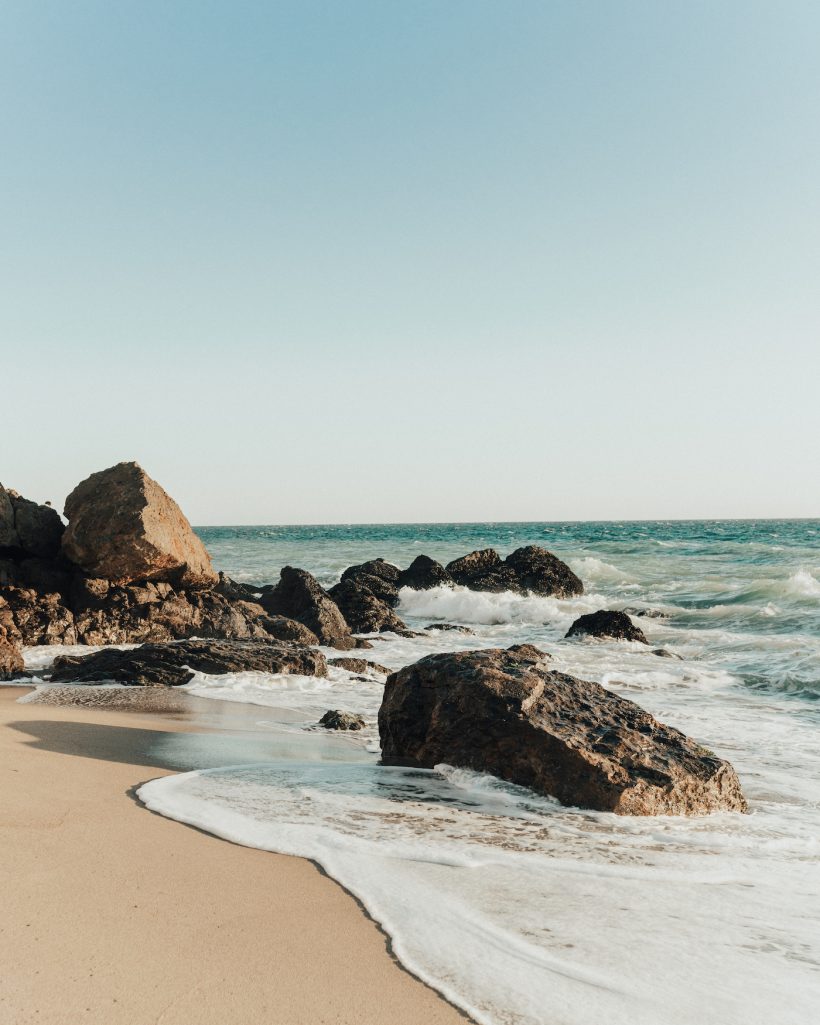 Here are the 5 materials we will use throughout our renovation
My goal is to leave most of these materials as raw as possible to let their natural beauty take center stage.
For Exterior: Sequoia
The design decisions that have the most impact are usually the ones that concern you the most, because the final verdict can completely change the way a home looks. This was certainly the case when choosing the exterior material of the beach house. Adam and I have always loved stucco homes, as evidenced by our current Mediterranean-style home. However, the soul of the Malibu Coastal Home is the surf shack vibe, and we knew a wood-clad exterior would perfectly capture the timeless, beachy essence we were looking for.
Early in my research, I learned that there were so many wood options, and we even considered the idea of ​​whitewashing the wood. However, when I discovered the natural beauty of California redwood as an option, I was intrigued. I spoke to the team at Humboldt Sawmill, one of our Sunset Idea House partners, and they shared more about the strength and natural resistance of redwood to insects and rot. And since sustainability is a core value of this renovation, I was drawn to the fact that Humboldt Sawmill's logging, manufacturing, and redwood distribution operations are certified to Forest Stewardship Council standards.
I love the warm tones of redwood even more with age, so we work with our builders to treat the wood so it develops that beautiful gray color even faster. Stay tuned.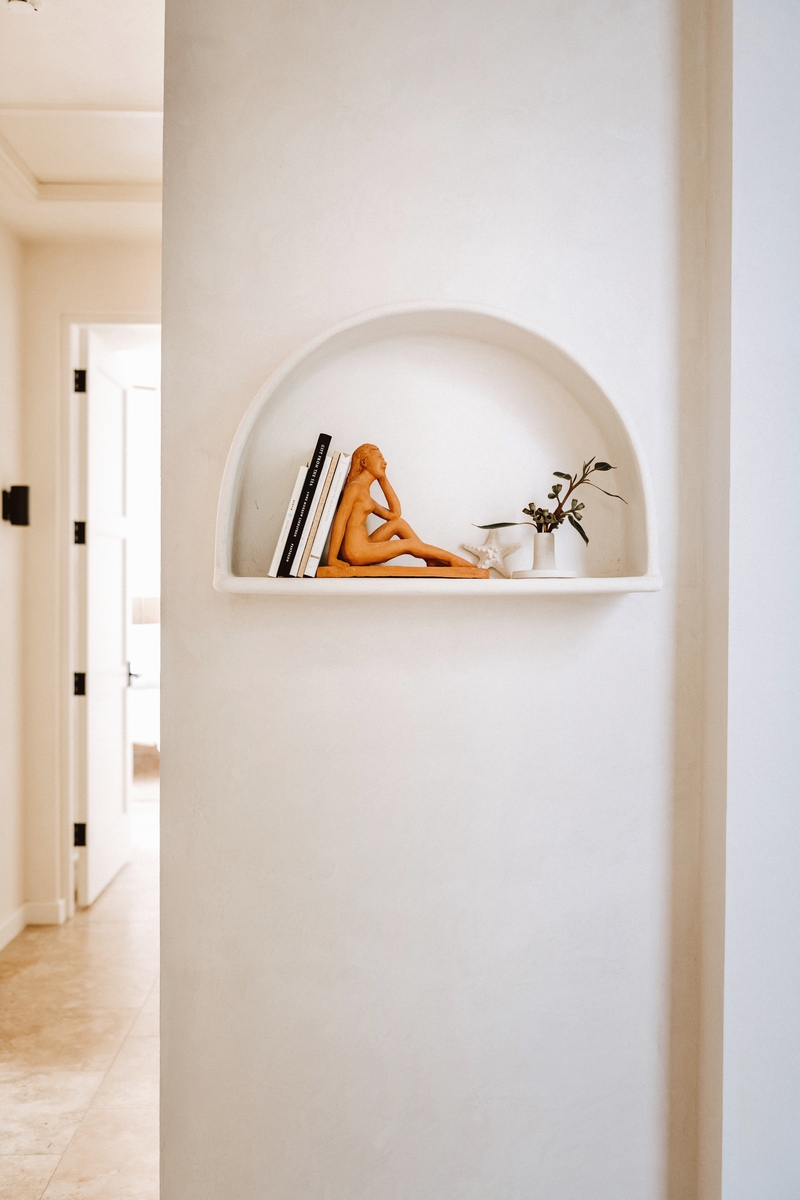 For walls: plaster and gypsum
Finishing the walls has been a major source of internal debate – while my husband, Adam, and I both love the depth and texture that plaster gives to a room, it's an expensive and time-consuming process to apply. And the alternative – smooth plasterboard in a beautiful shade of semi-matte white – definitely captures the beach vibes we have in mind. That said, there are a few key areas where we think plaster texture will be worth it. Namely, our extra large room and our master bedroom, two places where we want to embrace negative space by leaving a few walls bare – a much more intriguing proposition when formed from earthy textured plaster. (Read our journey to plaster walls in our Austin home here.)
The other parts of the house and the entire guesthouse will be simple, timeless sheet metal which we will paint white for the best of both worlds: the texture of plaster in key areas, with the affordability and durability of paint in the rest of the house. We'll match the colors of the plaster and the painted walls so the eye doesn't notice where one ends and the other begins.
For countertops: Caesarstone
I am endlessly fascinated by different types of stone – there is something romantic and almost mysterious about a dramatic vein running through a slab of marble or a timeless piece of moody soapstone. But when it came time to choose which stone we would use for our countertops and backsplashes, I really didn't consider anything other than Caesarstone, which I've used and loved on the last three major design projects I've seen. participated. My current kitchen counters have withstood massive wear and tear without even a scratch or stain.
Since I use Caesarstone in both my kitchen and some bathrooms (including the floor tiles and walls in the master bathroom!), I will be incorporating a few different color choices throughout the house to give a subtle variation. Here are the colors I'm considering:
Primordia- "A light concrete base accented with rich flecks of off-white, veils of gray, hints of brown, and oxidized traces of pale yellows and faded greens for a full-bodied industrial look," according to the Caesarstone website.
Airy Concrete – "An airy feel of real concrete in motion, swirling with clouds of darker hues and flashes of white, on a deeply textured surface that's refined for the home," the website says.
Layalite – "The purest white of fresh snow, melting in wide, wide-spreading streaks, gently exposing the rough grays and ochres of the underlying metamorphic rock, creating an emotive effect in the honed finish," the team explains by Caesarstone.
Symphony Gray – "A soft gray background, veiled by delicate white tones and textured depth of diagonal silver streaks," the website reads.
For the bathrooms: Zellige Argile tiles
Every remodeling project should have at least one item that gives you butterflies when you envision it in the finished space, and for me, that's the use of terracotta zellige tiles. I've never attracted a lot of decorative tile in the past – maybe I've had too many negative associations with the 90s tile applications of homes I've rented before. Although I used to think a lot of tiles equated to bright colors, that all changed when I discovered the earthy, organic texture and colors found in clay zellige tiles.
Zellige tiles are usually handcrafted in Morocco according to an ancient tradition passed down from generation to generation. The process begins with soaking raw clay in water and placing it in a mold. The pieces are then left to dry in the sun, resulting in subtle and unique variations that reflect the craftsmanship and wabi-sabi nature of the process.
Our tiles are from Zia Tile, and I will be using the following selections in various bathrooms, as well as in the guest house kitchen:
Even if I am in love with this material, the tiles still scare me a little! There are so many factors to consider: horizontal versus vertical, stacked versus staggered versus herringbone…and then there's the grout! I remember that sometimes you just have to do some research and take the leap.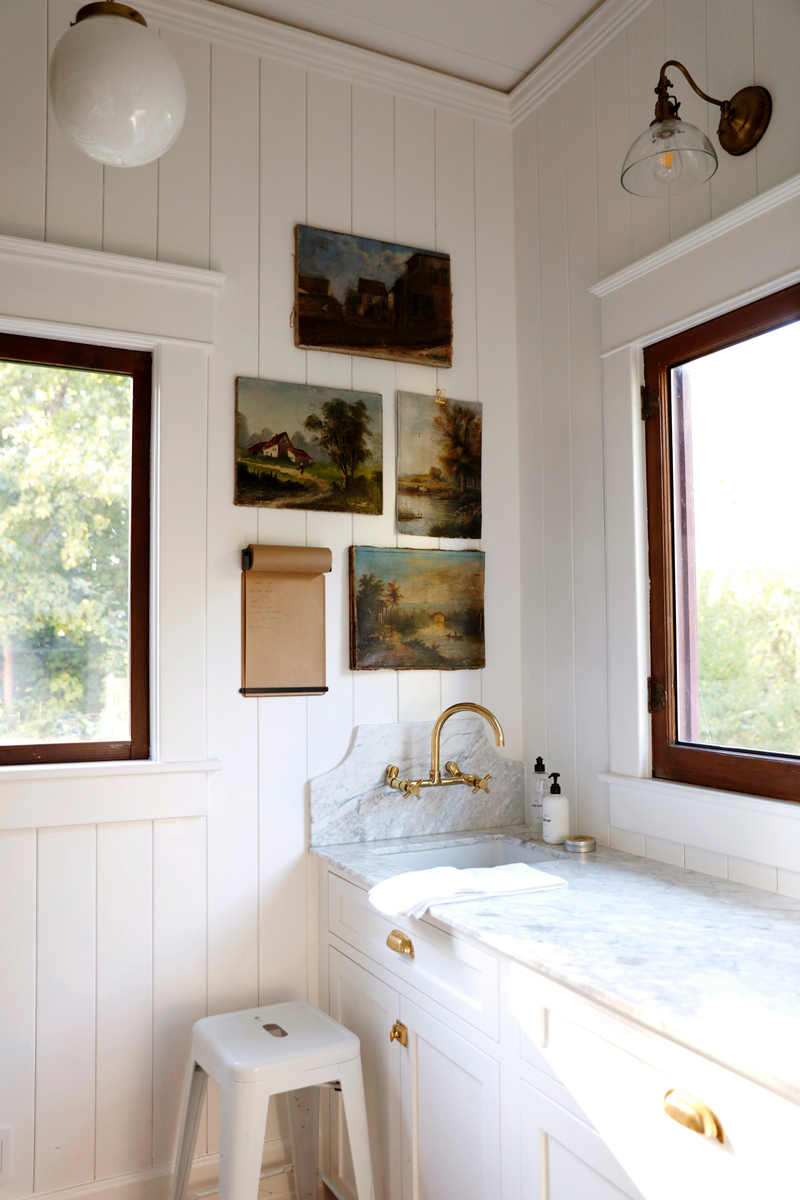 For hardware: Unlacquered brass
Plumbing fixtures and hardware are one of those little details that can completely change a room. The impact of chrome hardware sets a completely different tone than matte black or brushed nickel. Although I've loved the unlacquered brass hardware – with its beautifully aged patina – for many years, I knew it didn't suit our current, more contemporary home. But at the beach house, I finally found my chance to use it. The warmth and softness that unlacquered brass brings to a kitchen or bathroom would feel right at home in the casual, sun-bleached palette I envision for the home.
I've heard many cautionary tales about using unlacquered brass (also known as "living finish"). There's maintenance – you need to use a special cleaner, and most experts recommend installing a water softener. You must also accept the patina and age that occurs over time – much like the decision to use marble, you must be prepared for it to look "imperfect" in use. I see a charming character, while others might see flaws.
In my research, I learned that it takes about a year for unlacquered brass to age naturally. However, if you want to speed up the aging process (like me), you can use vinegar, salt, or a brass aging product. After having watched a lot of different options, I opted for Kallista's unlacquered brass fixtures, mostly beautiful A collection.
Plumbing fixtures are one of those decisions that a lot of people leave until the end, but since unlacquered brass is a definite design statement, I wanted to lock in that decision as part of my grand vision that will help guide the other elements of each space.