This week we share projects from Ontario to Denver and the UK, with several stops in between. In addition to the projects we cover in detail, we highlight the work architectural firms share with us every day through Project Gallery, the user-generated portion of the ARCHITECT website. To date, we have over 15,000 projects.
Amagansett House, Amagansett, NY
Hacin + Associates
"Amagansett House is a three-story, 7,000 square foot vacation home located in the Hamptons of Long Island. Secluded on more than 2 acres of unspoiled woodland near the ocean, the new construction features six bedrooms and eight bathrooms. baths as well as a two-car garage, inground pool and pool house."
801 San Ramon Valley, Danville, CA.
Sidell Pakravan Architects
"Various textures and scales of wood create a new identity for this once bland and languid office building. This commercial renovation in Danville, a small town in Northern California, transforms and expands the existing space with a bold volumetric statement that remains sensitive to the materials, history and scale of the neighborhood."
Orchard House, Seattle
five points
"Orchard House is a custom home designed to pay homage to an orchard that covered the area north of Seattle's Green Lake neighborhood in the early 1900s, as well as the heritage trees that remained in the back yard of the house. 3,320 square foot house consists of a series of stacked volumes that create indoor/outdoor spaces with their overhangs and intersections."
Carnegie Library of Pittsburgh-Beechview, Pittsburgh
GBBN Architects
"A complete makeover highlights a 50-year-old wallflower. An addition to the front creates a welcoming, approachable presence that 'proudly greets the street' and provides additional interior space."
Laurentian University Student Center, Sudbury, Ontario
Gow Hastings Architects, Yallowega Belanger Salach Architecture
"The Student Center functions as a vital junction along the backbone of campus, connecting the University's East and West Campuses and providing students with a centralized gathering place. Its eyebrow-like shape is inspired by Greater Sudbury's changing landscape, its industrial heritage and its new spirit as a 'brutally beautiful city.'"
Yannell PHIUS+ House, Chicago
HPZS
"HPZS designed the first-ever Passive House Institute US Certified (PHIUS 2018+) single-family renovation in Chicago. The goal of this groundbreaking low-energy renovation project was to transform the speculative home improvement market in the Midwest.
HYDRO Building, Colorado State University, Denver
Hord Coplan Macht
"The HYDRO Building will provide a unique user experience in a one-of-a-kind facility. Inspired by the fluid nature of water, the building invites the public into the grand entrance hall, connecting three levels via a spiraling 'whirlpool' stairs leading to a deck on the third floor."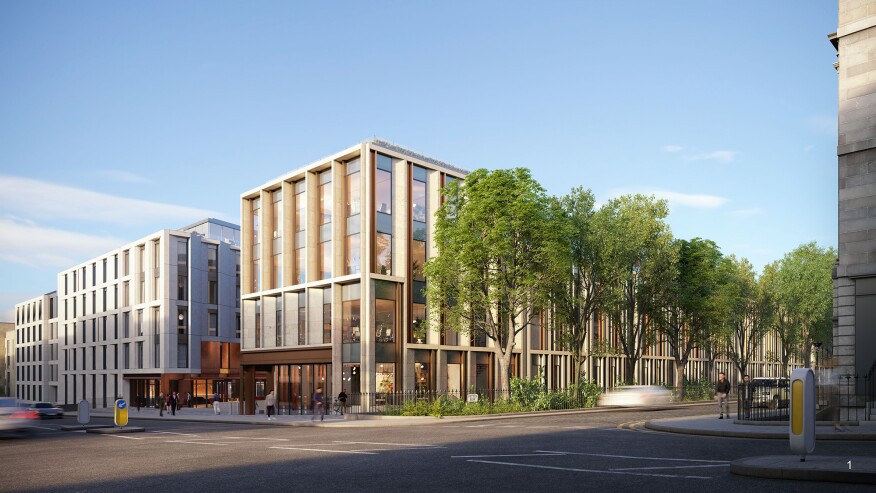 New Town area, Edinburgh, UK
10 DESIGN
"The proposed mixed-use development will create a new urban centre, providing a significant addition to the public realm, and includes a hotel, 80,000 square feet of office space and 350 homes. The proposed new buildings at Fettes Row are designed to respond sensitively to the adjoining listed buildings, while retaining and reinforcing the site's existing 'green border' boundary."
Ithaca College Athletics and Events Center, Ithaca, NY
Moody Nolan
Acting as the anchor for Ithaca College in upstate New York, the 179,000 square foot Ithaca College Athletics and Events Center provides the institution with indoor, a natatorium and an outdoor grass field. Designed by national firm Moody Nolan, also AIA's 2021 Architecture Firm of the Year, the space also features a sculptural tower that "serves as a natural ventilator powered by the chimney effect of warm air that rises and expels hot air out the top of the tower with minimal mechanical means, while drawing cooler air into the building through low louvers on the prevailing wind side of the building," according to the description of the company.
In addition to its sensitivity to efficiency and space for recreational projects, Moody Nolan has investigated a number of architectural strategies to support healthcare facilities during the COVID-19 pandemic. Learn more about how the company has seen the pandemic exacerbate inequities in healthcare access and how it suggests architects help improve the quality of care in underserved communities in "Post-Vaccine Health Care Design", one of six building typologies featured in ARCHITECT 2021 "What's Next" feature on post-vaccine architecture.
Want to see your company's work highlighted here? Create an account in our project gallery, add your company and upload your projects. Go to the gallery's homepage and click on Create project.